Montréal Alumni Chapterr
Sigma Chi Fraternity
Annual Brunch, Saturday, April 13, 2013
Boccacinos Restaurant
1251 McGill College Avenue
The following Brothers met at 10:30 a.m. on the ground floor of the restaurant: Joshua Buck (Chapter Advisor, Gamma Lambda Chapter), Stephen Chun (President, Montréal Alumni Chapter), Remigio Mariano (President, Gamma Lambda Foundation Inc.), Marc Perrault, Martin Trudeau (Grand Praetor, Saint Lawrence Province).
All present enjoyed a leisurely and relaxing brunch with ample amounts of food and coffee served by pleasant and efficient hostesses.
The conversation centered on Sigma Chi activities both of the Gamma Lambda Chapter and the Gamma Lambda House Corporation. The Grand Chapter of 2013 to be held in Washington, D.C. was discussed.
Alumni Chapter Membership Dues were collected.
The 5 Brothers posed for 2 digital images and departed from the restaurant about 1:00 p.m.
Regrets: Keith Chan, Nigel Fung, Thomas Hruby, Bosko Milekic, Mike Pasoff, Tim Sanderson, Peter Tilden, Jeffrey Wagner.

IHSV,

Brother Stephen Chun, President, Montreal Alumni Chapter
Brother Raphael Uribearango, Tribune, Gamma Lambda Chapter


Montreal Alumni Chapter of Sigma Chi Fraternity
Sigma Chi Brothers of the Montreal Alumni Chapter continue to participate in events held at the undergraduate chapters at Bishop's University and McGill University. They attend the respective chapter executive meetings, retreats and Ritual meetings. Our Alumni are always renewing their Brotherhood with involvement in bid dinners, pledging ceremonies and initiation events.
The year begins with participation each summer at Balfour Leadership Training Workshops where the Alumni act as Chapter Advisors, Cornerstone Mentors, House Corporation Officers, Alumni Ambassadors and Grand Praetors. They continue their commitment to Sigma Chi Fraternity by participating in the Saint Lawrence Province Workshops and Housing Seminars.
Highlights are the annual Football games between Bishop's Gators and McGill Redmen, the 'David Patterson' Christmas get together. Our monthly activities are full of warmth and Brotherhood regardless of the Montreal weather.
News
Saturday, September 11th, 2010
The Montreal Alumni Chapter has just completed the Summer of 2010 with a celebration of Brotherhood and the re-involvement of Alumni.
Life-Loyal Sigma Chi, Brother Marc Perrault, McGill .87, got re-involved with the Gamma Lambda Chapter House after attending an Alumni Reception hosted by the Gamma Lambda Chapter early in 2010. Marc took it upon himself to do repairs and to paint areas of the Chapter House. With the finnancial assistance of the Gamma Lambda Foundation Inc. and the co-operation of its Treasurer, Brother Jean-Yves Pikulik, McGill .06, Marc was able to make significant progress in his project. Both the Active and Alumni Brothers took notice of these renovations and mentioned it to other Alumni involved with the Fraternity. As a result, Brother Perrault was awarded a CERTIFICATE of APPRECIATION on Saturday, September 11th, 2010. This presentation by, Brother Peter Tilden, Bridgewater-Bishop.s .89, Grand Praetor, Ontario/Quebec Province, was made at a brunch attended by Brothers from Iota Rho and Alumni from the Montreal Alumni Chapter. Following this brunch, Alumni Brothers and children took in a football game between Bishop.s University and McGill University. (See attached digital image).
Brother Stephen Chun, McGill 98, President, Montreal Alumni Chapter, Sigma Chi Fraternity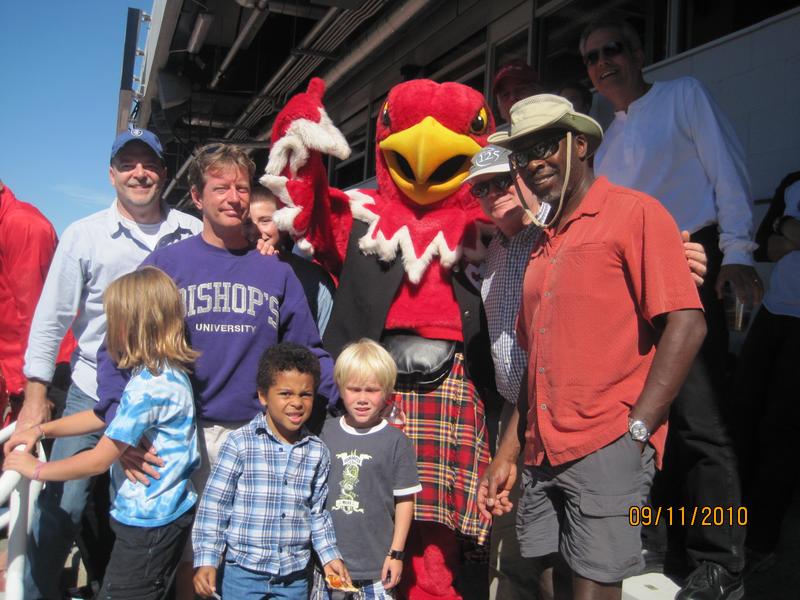 Sigma Chi Brothers and families are seen at the Bishop's and McGill Universities football game on Saturday, September 11th, 2010. From left to right: Back row: Peter Tilden, Chris Patterson, McGill mascot, Dave Patterson, Marc Perrault; Middle row: Ted Scaldwell, Gaetan Villemure, Peter Alleyne; Front row: Chloe Scaldwell, Joseph Tilden, Brendan Scaldwell.
Links
Facebook Page
Active Chapters
Alumni Chapters
Payment Information
Please send payments for events and membership to the following address:
The Montréal Alumni Chapter of Sigma Chi Fraternityy
Brother Remigio Mariano
921 rue de l'Église
Verdun, Québec, Canada
H4G 2N4
Please make cheques payable to: Remigio Mariano
We cannot issue a tax-receipt (We are not a registered incorporation)
Contact
Brother Stephen Chun,
President
Brother Bijan Soleymani,
McGill '06,
Webmaster
Email the Webmaster
exmac.ca domain registration by GoDaddy.com